Today i explore the effects that the rate cycle would have on the markets and potential opportunities.
FOMC
June 19th FOMC rate cut is 23% probability of a rate cut 25 basis points and a 77% chance of no action. Whilst the July FOMC is pricing in 83% chance of a rate cut.
FOMC July 31st 2019
Historical Performance after Rate Cuts.
Gold and Silver miners performance after a rate cut, ranges from 50% to 600%. The analogues below can be made for what point in the cycle we are at, i personally don't know. Rather i sense an opportunity. For me, the only question is, from what price point and when does the rate cut occur.
Late cycle rallies, usually include a rally in everything. SP500 performance after rate cuts implies possible melt up in equities also. I know alot of Gold/USD bulls are Equity Bears, i am only presenting the data. When the Fed cuts rates into a non recessionary environment, It usually very bullish and equities go onto making new highs.
I tried to incorporate many data sets of performance after cut rates. Gold and Energy according to Bloomberg are the top performers. Cementing my thesis.
Last week's Double Line presentation by Jeff Gundluch lays out the case for rate cuts and a lower USD. As the world economies begin to slow down, deficits continue to rise and servicing those debts becomes more burdensome, taking out more $$$ from the system, thus slowing it further. USA deficits are exploding at a time they are enjoying strong economic growth. Couldn't imagine what they would look like in a recession. Either way, my case is NOT for a lower USD rather for low rates and at some point negative real rates. 2 charts from Double line's presentation, that sum it up.
Tax revenues are declining, as the debt continues to increase, the pressure is now mounting and the bond have lead the way, pricing in a 75point cut.
In May 2019, USA printed the largest ever deficit of 440billion USD.
So if the Fed wants to continue expanding the economy, it will have to loosen up. Though with markets at near all time highs, we may have to wait. I do not expect to cut rates in June meeting rather change the language and prepare the market for a new direction to come. Hence it will be choppy action in Commodities, SPY, EEM and the Dollar until then.
Gold
Gold is my barometer for the mining stocks. A sector unloved, forgotten and potentially very lucrative. Thus Gold is the lead indicator for future performance. Diving into USD Gold today as the last call on AUD Gold, has been very handsomely reward https://258capital.com/2019/06/01/the-great-australian-break/. The real money that lies ahead is in the North America based miners.
Gold once again failed at the break out ! Friday getting high as 1362 before settling at 1344usd. Another failed attempt, and the battle between the bulls and bears rage on. I read alot of 'Gold has peaked and heading to 900usd' headlines and on the flip side many calling for 1700usd. Perhaps Gold is fairly priced in between. Gold Looks ready to settle and consolidate for a while. A retest of the low 1280-1300usd is not unlikely.
Sentiment has been building since the 2013 lows in Gold. We saw in 2019 Sam Zell, Paul Tudor Jones and Stan Drunken-Miller, start making calls for Gold to go higher over the 12-24months. Big money maybe finally looking at Gold in a positive light. Though it would seem, this move and high sentiment will require a shake out.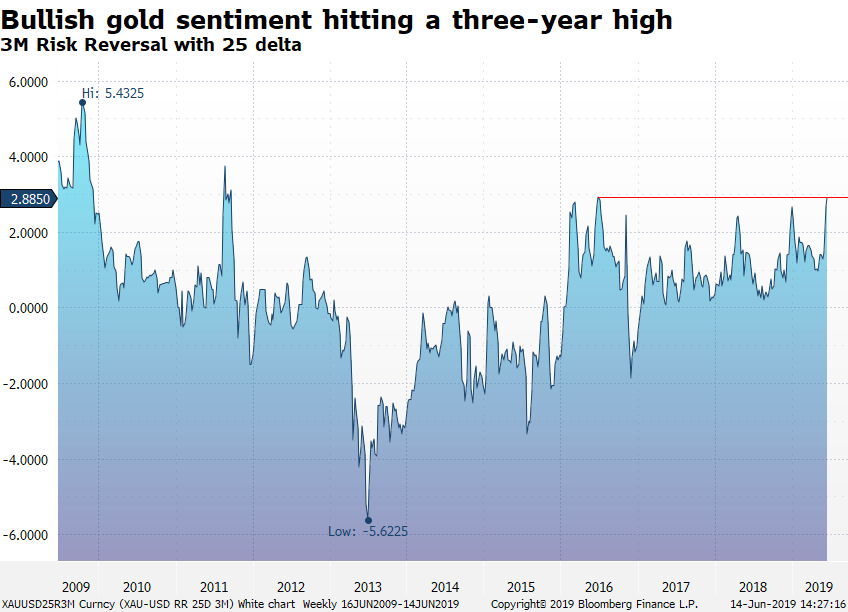 Gold positioning like the USD is elevated, but is only half that of the 2016 highs. Has room to move either side. My guess would be to the downside in the very near term, with the FOMC being the caveat if it were to surprise cut in June.
Found it hard to get a Quarterly chart, so sorry if unclear. As the Qtr closes out in June, Gold has yet to break on a qtrly basis 1330usd since 2013. So most likely, it's fate will be decided with the FOMC meeting. Something to watch. I will stick my neck out, and call for a Q3 2019 break on the Qtrly basis of 1330usd. Making higher lows, one more would build a even stronger base.
Yields and Gold share a fated path, hence rates will be the driver, not the USD.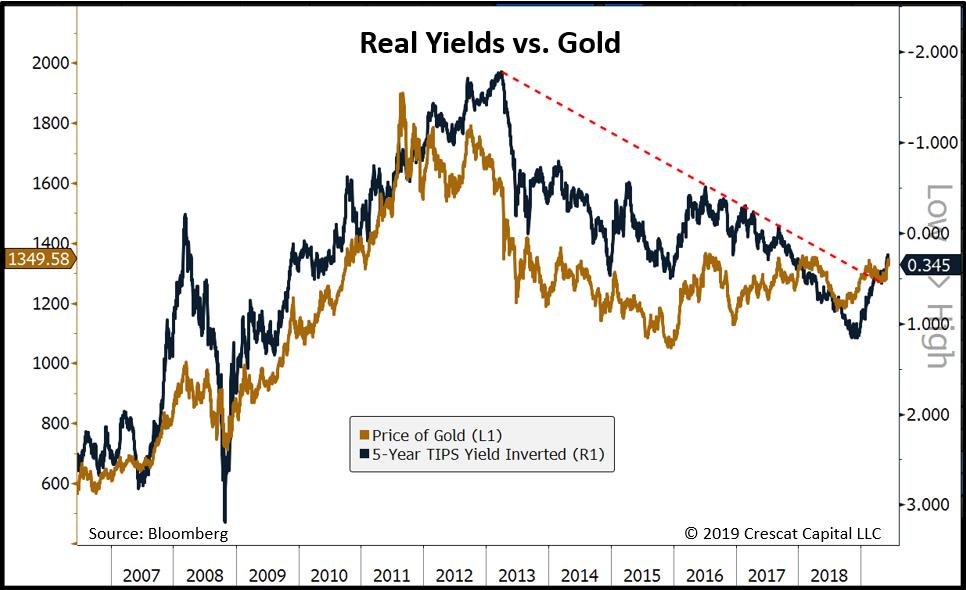 Gold following TIP and continues to do so. Keep your eye out on TIP.
Overall Gold has done very well it has ignored the USD and followed rates higher, as bonds have been on a ripping run also. They look overdone here in the near term. One point i will make, if Gold rallies beyond 1400usd, alot of the Gold bears will have to throw in the towel. This would add fuel to the fire at some point. Though we are not there yet and may not get there as i expect. Just something to watch.
Gold Miners
The Gold / Silver miners have been weaker than the Gold itself, can be seen as a strong signal of a false move. But individual names outside the ETFs, have exponentially outperformed. But looking at this as a whole, the charts are at a very interesting place.
GDX is fighting with the EMA200 Weekly. Outside the Brexit in 2016, when it broke above and run, the 200 week has acted as a strong signal to sell. Since 2016, The GDX has not been able to have two consecutive weeks (convincingly) above the 200week. This week GDX closed above, thus setting it up for a FOMC break or epic fail lower.
Lower trend line comes in at 20.50-20.70usd, if it were to go lower.
GDX Qtrly chart, looking for a close above 24usd, would be extremely bullish and set us up for a retest of the 2016 highs.
XAU Gold and Silver miners index, Log scale chart. Shows clearly testing down trend once again. We have been here before, and failed on the previous four attempts from the high.
No surprises to those who read my blog just how far the AXGD has gotten. Breaking out of the monthly 2013 break down range. Adding AUD Gold hit record high of 1967aud an ounce before settling at 1951aud. For the AUD Gold investors, Australian Dollar looks to be about to break to new lows, supporting the Gold price and the miners.
Canadian Gold miners index popping it's head above the monthly break out. CAD Gold prices challenging 1800cad once again. The TSX miners yet to respond as i would of liked, sensing perhaps a short term decline in the price of Gold.
Summarizing, It is only a matter of time before the Fed Cuts rates according to the markets and the yield curve, One should be looking for a cut sometime in the future. The relative performance of the mining sector thereafter could make for excellent returns as the data suggests. If it is June, July or even September, we are closer to new leg higher in the sector so we patiently await. I lean towards a shake out event coming, and wouldn't be surprised to see a gap fill on the GDX and miners. EEM and other commodities may also benefit but with the world economies slowing, we would have to wait and see. Regardless, I am watching and waiting.
Thanks for reading and Good luck.