I have been waiting to get further confirmation of a potential short squeeze in Silver, This week we saw a few more key factors to turn in our favour and it seems that the stars maybe aligning. I wrote a piece on the 26th May; https://258capital.com/2019/05/26/rising/ suggested that, without a large move in Silver, Miners will not rally as a whole. That has played out unfortunately, in the face of 1350usd Gold, Miners have underperformed. The risk on move, that Silver rally provides, always leads into money flows into these small juniors. Therefor, Silver is ultimately the key for any large PM miners rally as a whole. In the article will explore potential key drivers and how Silver and the GDXJ could possible get a nice bid into Q3, on the balance of probability.
USD – The driver of all things commodities.
First let's look at the USD index $UUP. The daily sentiment index got to near 95% recently, and COT longs recording historically high numbers. With all the tailwinds of a strong equities market, full employment, higher rate differentials just to name a few, it couldn't break out(yet). Fast foward a week and we are looking at a few sets of bad data, massive NFP job numbers miss (biggest in 10yrs), failing trade war talks, Fed talking about starting a cutting cycle and the UUP has broken its 18 month uptrend.
$UUP USD index
Longs are near high positioning in the USD, any rate cut or further poor USA data, could unwind positions alot faster in the short term.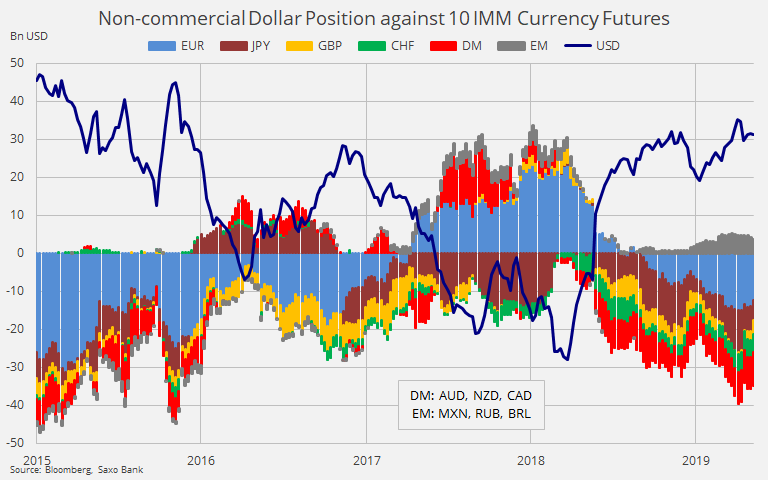 Silver the key.
Short term Silver chart shows it breaking falling wedge and testing the 200ma daily. Starting to show positive signs in the price action
On a longer time frame, we see a nice momentum divergence, and possible uptick in the price. 16usd is strong resistance. For now, i like it for a test to 15.80-16.20usd region. The real break comes after that.
Silver COT positioning
Managed money is net short in Silver positioning at a point, historically we get strong rallies out of this. Sentiment despite Gold's rise, is still in the dumps. Making this potential 'catch up' play.
Silver Hedgers positioning also near zero and like the managed money, is a bullish sign of a short term bottom.
Seasonality
Putting this all together now, we see Silver data shows historically a strong few months ahead. Gold/Silver ratio is leaning towards a Silver move higher relative to Gold. We could see some of Gold inflows now going into Silver, which is historically has been a lagger.
Silver 10year data seasonality, shows lows in June and a rally into August/September.
Silver miners priming
Focusing on the Silver miners that have been leading to confirm possible move. Most of the Silver miners charts look terrible. The space has been a hideous investment. Most juniors are poorly management, have to deal with low Silver prices (they require 17usd+ to sustain and break even), High Debt and more dilution. But looking on the leaders of the pack, we see them rising and now moving towards key areas for a possible break.
$AG First Majestic.
With 24m shares short outstanding any Silver rise could make this sustainably outperform. A high alpha with one of the purest Silver exposures on the markets.
$MAG Silver
Like $AG testing breakout pivot as it prepares for production next year.
$SIL Silvercrest continues to march higher, like $MAG and $AG, now pushing up against break out pivot.
$SILJ Silver miners Junior ETF. Looks identical to the GDXJ/Silver chart. So would expect it and the miners, it hosts to perform very well in a rising tide. Though these miners in the SILJ, are debt burdened, high cost producers, that will explode of a Silver price rise, but will die soon if we don't see higher prices north of 17usd. So only trade these positions or the index.
Silver and the GDXJ
Looking at the above, the balance of probability, if we see a Silver rise, we should expect it to go GDXJ with it. Below a GDXJ/Silver chart, both move relatively in sync.
GDXJ like Silver, showing positive momentum, and expecting 34-35usd test if we can see Silver touch 15.8-16.20. Again, after that we will have to see.
As one would expect, GDXJ Seasonally has a good run into Q3.
Conclusion
On the balance of probability, i like this coming move in Silver and the flow on effects it could have into the GDXJ miners. Perhaps we see a small tide lift. This at this stage is just a trade idea, until we break 15.80-16.20 on a weekly chart, and hold, then we are just in a counter trend rally. I would be wrong, if Silver closes under 14usd and GDXJ 27usd. Thank you for reading and hope you enjoyed. All the best and good luck.